What you wear, starts with your hair
INK is a full service award winning hair salon. We offer a full range of hair, everyday beauty, special occasion and relaxation services in a boutique environment.
Our highly trained staff are committed to excellence, as demonstrated by our many awards.
We'll incorporate your lifestyle, face shape, and skin tone, to create the best possible colour and style for your image.
Testimonials
"I love Ink!! The salon is gorgeous, I especially love the chairs at the wash basins. I have been there twice and Wendy has done my hair both times. They are hands down the best two haircuts I have ever had in my life."

Emily Pony
"Wendy is amazing! Very professional and talented. Knew exactly what was best for my hair. Ash and Sara are also so pleasant and helpful. A+ on customer service. The overall experience was worth it!"

Mindy Rutledge
"Most amazing hairdresser! Been coming here for years, cannot recommend them enough. Wendy is so generous and kind and has a fantastic team! Wouldn't go anywhere else!"

Jesse Crompton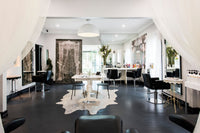 Our Salon
Indulge your senses in our decadent Parisian inspired salon.
Enter through the lavender garden and relax in our inner city oasis, where you'll be pampered in the finest salon surrounds. As one of only a handful of Kérastase Official Diagnosis Salons in Australia, we are delighted to offer you a specialist diagnostic hair ritual customised for your needs.
Our salon is equipped with the most comfortable Japanese basin chairs for your ultimate comfort.