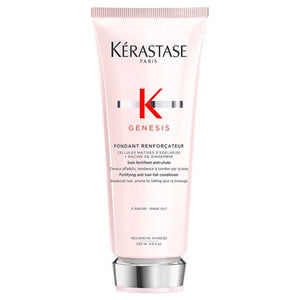 Anti Hair-fall Fortifying conditioner for weakened hair, prone to falling due to breakage.
This creamy formula offers anti-breakage action with the most lightweight finish.
It helps restore the fiber and reinforces its natural resistance to reduce the risk of hair-fall due to breakage.
Enriched with the combination of Edelweiss Native Cells and Ginger Root, it instantly smoothes, strengthens and softens the fiber while providing deep nutrition without weighing down the hair.
Hair is uniform, shiny and stronger.
Benefits
93,3% less breakage*
93,3% more resistant*
93,3% stronger hair*
97,7% reduced hair-fall due to breakage*
*Instrumental test, reduction of broken hair mass versus classical shampoo after 1 application